Washington Renaissance Orchestra
---

Check out Video and Pics – JAZZNET SHOWCASE YouTube:
https://www.youtube.com/watch?v=0q9KOZUhaxA#t=16
http://www.gettyimages.com/photos/congressional-black-caucus-jazz-concert?excludenudity=true&sort=mostpopular&mediatype=photography&phrase=congressional%20black%20caucus%20jazz%20concert
Who We Are:  The Washington Renaissance Orchestra (WRO) is established, to promote and coordinate Big Band Jazz performances in and around the DMV area, regionally, nationally and internationally. The Orchestra was formed as a vehicle to create performance opportunities for jazz musicians in a big band setting featuring jazz at its best, with world-renowned guest artists, to an audience of thousands each year.  These musicians are highly regarded performers and educators across the country and around the globe, and are under the Artistic Leadership of drummer and composer Nasar Abadey.  Abadey is also Professor of Jazz Studies at Peabody Institute of the Johns Hopkins University; and Allyn Johnson, the Music Director, pianist, composer, arranger, is also a Professor of Jazz Studies and Director of Jazz Band at the University of the District of Columbia. The musical leadership of this organization incorporates contemporary arrangements into its repertoire, and commissions new arrangements and masterworks for the jazz orchestra.
A main goal of the WRO is to promote the development new audiences, while sustaining those familiar and having a passion for big band jazz music.  WRO plans to cultivate a dynamic and adventurous spirit in the presentation, which keeps audiences coming back again and again. All the members of this orchestra are residents of the DMV area and many are members of the DC Federation of Musicians.
The team consists of Nasar Abadey, Artistic Director http://www.nasarabadey.com/; Allyn Johnson, Music Director http://www.allynjohnsondivineorder.com/; Baiyina Abadey, Executive Producer ARTSdpc® www.artsdpc.net info@artsdpc.net; Bill Brower, Production Manager http://www.jbvproduction.com/index.html; and Willard Jenkins, Artistic Liaison willard@openskyjazz.com;
The Washington Renaissance Orchestra consists of the following musicians:  SAXOPHONE: Antonio Parker; Paul Carr; Fred Foss; Brian Settles; Whit Williams; TROMBONE: Julian Lane:  Reginald Cyntje; Leon Rawlings; George DuPor; TRUMPET: Tom Williams; Michael Thomas; Thad Wilson; Alvin Trask; DRUMS and Artistic Director: Nasar Abadey; PIANO and Music Director and Conductor: Allyn Johnson; and BASS: James King.
Alternates Saxophonist: Charlie Young; Elijah Balbed; Jordon Dixon; Ambrose Vaughn
Each member of this orchestra has 10 – 30+ years of professional performance experience.
Twitter: https://twitter.com/WRenaissanceOrc
Facebook: https://www.facebook.com/WashingtonRenaissanceOrchestra
SAMPLES OF PERFORMANCES:
Annual Legislative Conference – CBCF 2016 WRO Jazz Concert
http://www.gettyimages.com/photos/congressional-black-caucus-jazz-concert?excludenudity=true&sort=mostpopular&mediatype=photography&phrase=congressional%20black%20caucus%20jazz%20concert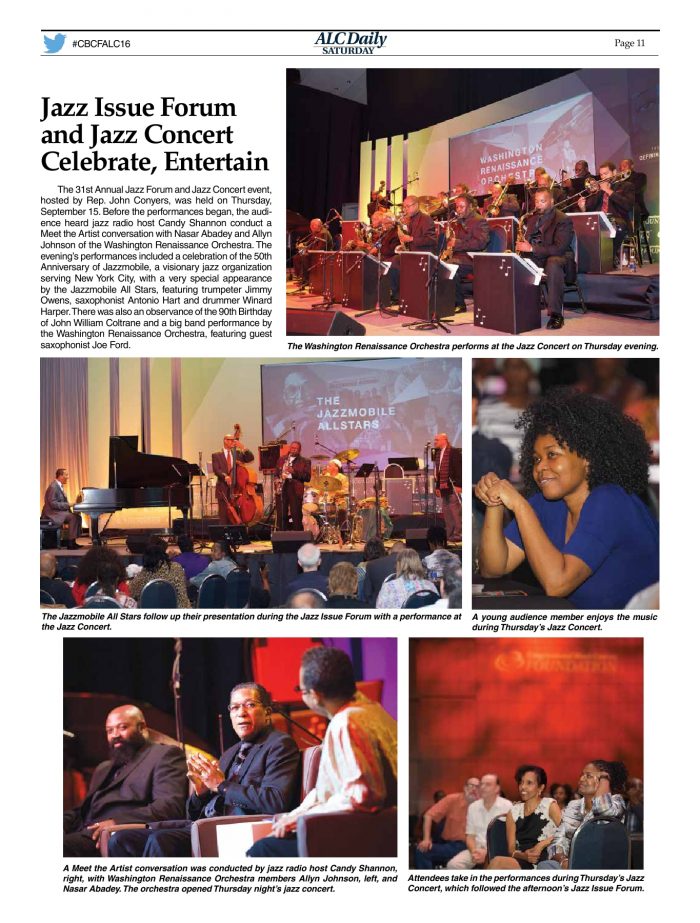 PHOTOS…
---