Nasar Abadey
---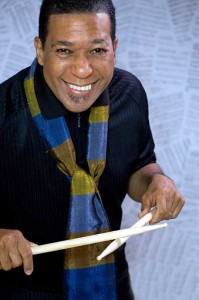 Drummer and Composer Nasar Abadey is the founder, leader and driving force of SUPERNOVA®. Based in Washington, DC Abadey has also built a solid reputation as a sideman with several groups, and has recorded and/or performed with many national artists throughout his career. Abadey began playing drums at age five. Drawing influences from powerhouse drummers such as Tony Williams, Max Roach, Roy Haynes, Elvin Jones, Art Blakey, and his cousin Frankie Dunlop, Nasar Abadey creates jazz music steeped in modal, free form, fusion, and avant-garde styles.
Website: http://www.nasarabadey.com
Sample Work: Past Performances https://www.artsdpc.net/sample-work-nasar/
EPK: http://artistecard.com/nasarabadey (Electronic Press Kit)
Currently Mr. Abadey is a Professor of Jazz Percussion in the Jazz Studies Department at the Peabody Institute of the Johns Hopkins University in Baltimore, MD
In 2013 he was honored with the Strathmore Mansion Artist in Resident (AIR) to mentor vocalist, Integrity Reeves, and drummer, Isabelle DeLeon. Previously selected honors and awards are the Community Foundation for the National Capital Region, Creative Communities Initiative Grant Award; the DC Commission on the Arts and Humanities for Merit and Artistic Performance; the National Endowment for the Arts (NEA) Artist Award, for performance, concerts and lectures in Providence, Rhode Island, Boston, Massachusetts, and Washington, DC; the Creative Artist Performance Service (CAPS) Award, for Composition, New York State; and the Prince Georges Arts Council Grant Award for Jazz Workshops in the Maryland Public School sector; GATEWAY CDC for a percussion ensemble; and the Honda Odyssey Project. He has served as Music Panelist for DC Commission on the Arts; National Endowment for the Arts (NEA), and the Mid Atlantic Arts Foundation, respectively. He is currently a Board Member of the Washington DC Area Lawyers for the Arts, (WALA); selected by Washington City Paper, Art Desk ' DC's Best Drummer in Jazz 2011; and in Capital Bop-Complete DC Jazz Guide was selected as one of five (5) Top CD's in 2010.
Nasar Abadey and SUPERNOVA's® musical presentation demonstrates an array of Colors, Textures and Grooves!
They perform music from the threshold of Jazz to beyond space and time, while having an artistic license to express their compositions through traditional African rhythms, bebop, fusion, Afro-Cuban, Afro Brazilian, and free form.The band's musical inspirations include John Coltrane, Miles Davis, Wayne Shorter, and Duke Ellington among others.
SUPERNOVA's® debut CD, Mirage was released on the Amosaya Records and his sophomore CD Diamond In The Rough was released on DPC Records in 2011. Most recently SUPERNOVA® was selected by the US State Department and the Lincoln Center as Ambassadors to tour with the American Music Abroad Rhythm Road. This one month tour took them to five (5) countries in East Africa; Rwanda, Uganda, Ethiopia, Zambia, and Mozambique. Abadey has performed with many of the greats in the jazz world. His credits include Amiri Baraka, Dizzy Gillespie, Charlie Rouse, Gary Bartz, David Sanchez, Cyrus Chestnut, Gregory Porter, Sonny Fortune, Ella Fitzgerald, Eartha Kitt, Kenny Kirkland, Gary Thomas, Stanley Turrentine, Sun Ra, Frank Morgan, Bobby Hutcherson, Pharaoh Sanders, Malachi Thompson and many others. Additionally, he has appeared in various festivals including, San Remo (Italy), Montreal (Canada), Cap City (DC), Virgin Island (Caribbean), JVC (NYC), Morocco (Africa), Chicago Jazz Festival, Iowa City Jazz Festival, D.C. Loft Jazz Festival, Atlanta Jazz Festival, Mellon Bank Jazz Festival, (Philadelphia), The East Coast Jazz Festival, the Free World Jazz Festival (DC), International Children's Festival (Seattle), Guatemala City Jazz Festival, Duke Ellington Festival, DC Jazz Festival, Mid Atlantic Jazz Festival among others.
---