---
Kush Abadey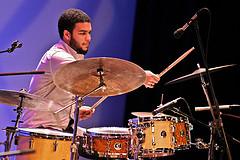 Kush has performed and/or recorded with many notables including Ravi Coltrane, Chris Potter, Nicholas Payton, JD Allen, David Weiss, Andrew White, Gilad Hekselman, Azar Lawrence, Terrance Blanchard, Frank Lacy, Jeremy Pelt, Tomasz Stanko, Barry Harris, Gary Thomas, Jared Gold, George Colligan, Dave Stryker, Josh Evans and David Gibson among others.  In his early twenties, Kush Abadey is an accomplished drummer & bandleader. When he was just 16 years old he joined the ranks as the newest member of the Wallace Roney Quintet, and has traveled, performed and recorded with the band at various concerts, jazz festivals and club dates in many parts of the world. Kush is featured on Roney's latest CD's, "Understanding" (2013), "Home" (2012) and on his first live CD with the quintet entitled "If Only for One Night."
Recent Activity:  
Thailand International Jazz Camp 2017 with Shai Maestro/Desmond White Group:  http://azsamadlessons.com/?p=20
Smalls Jazz Club, NYC:  https://www.smallslive.com/artists/1862-kush-abadey/
Click here for sample work.
At age five, Kush began to study piano with Harlan Jones at the New Sewell Music Academy, and soon afterwards began playing percussion in the Fred Foss Jazz Youth Orchestra. He also studied jazz improvisation with Jeffrey Chappelle and percussion with Tom Teasley at the Levine School of Music. Kush has performed primarily as a soloist for various community service projects taking the music to those who don't necessarily have the opportunity to go to live concerts; as well as to audiences at the Kennedy Center Millennium Stage. Kush was the youngest artist to date, ever selected for the Strathmore Artist-in-Residence program for performance and composition.
One of his most prestigious accomplishments was in 2008, when he was invited to perform for "Jazz at the White House" hosted by Michelle Obama. There he performed in an ensemble led by Paquito D'Rivera featuring Wynton Marsalis. He was invited back to the White House in 2010 to be featured in a Harpers Bazaar photo shoot with the First Lady Michelle Obama.
In 2009, Kush was awarded a Presidential Scholarship to attend Berklee College of Music in Boston Massachusetts, where he attended for two years. While at Berklee he was able to collaborate and study with some of the top musicians in the business including Terri Lyne Carrington, Ralph Peterson, and Darren Barrett. In 2012, Kush moved to NYC to pursue the jazz scene and was welcomed with open arms. He currently performs, records, and tours internationally with various renowned musicians and groups.
Kgyroscope@gmail.com
www.instagram.com/kushthedrummer/
---