---
Jazz Encounters continues the "Great Composers" Series 2017
This event was on April 23, 2017 7:00 pm
Bassist James King
will be presenting the music McCoy Tyner
 SUNDAY, April 23rd
7:00 PM
Featuring:
Wade Beach, Charlie Young, Nasar Abadey and Sharon Clark
Seating is limited… Ck in for your reservations! gc@jazzencounters.com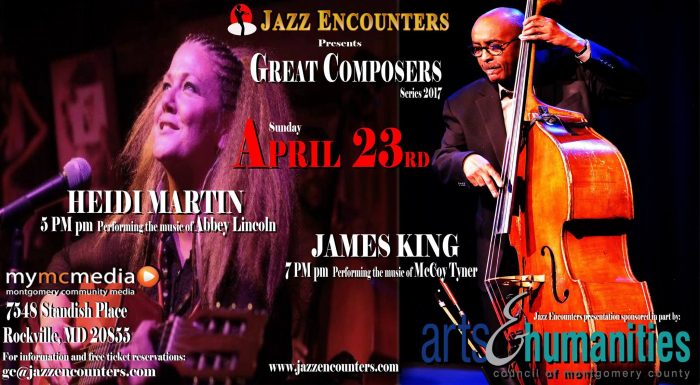 Jazz Encounters continues the "Great Composers" Series 2017 
with Vocalist Heidi Martin, and her band will perform the music of
Abbey Lincoln at 5 pm;
Bassist James King presenting the music McCoy Tyner at 7 pm,
Doors open at 4:20 pm.
The concert will be produced at Montgomery Community Media in television Studio A.
The series is sponsored in part by the Arts and Humanities Council of Montgomery County and the Montgomery County government.
For free ticket reservations, send an email request to: gc@jazzencounters.com
http://www.jazzencounters.com/about
Montgomery Community Television, Inc.
7548 Standish Place
Rockville, MD 20855
301.424.1730 phone
Jazz Encounters airs on Montgomery Community Media,
Channel 21 every Friday at 10 pm, Saturday at 1 pm, Sunday at 2:30 pm and Tuesday at 11 pm.
---
Jazz Encounters TV
---