---
Lincoln Theatre Performance of the Washington Renaissance Orchestra
This event was on June 20, 2014 8:00 pm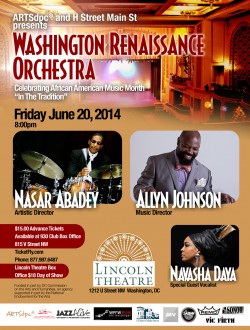 District of Columbia — Join the Washington Renaissance Orchestra in an exclusive commemoration of June – African American Music Month – "In the Tradition" – Friday, June 20th at 8:00 p.m. at the historic Lincoln Theatre.
Presented by ARTSdpc and H STREET Main Street, the Washington Renaissance Orchestra features many of DC's premier musicians, composers, bandleaders and educators in what promises to be amongst the most explosive musical highlights of this summer season.  Given its august history the Lincoln Theatre, which has hosted many of the most historic big bands in the annals of jazz and dance, is an auspicious venue for this roof-raising evening of great sounds.
Tickets are available for a $15/general admission in advance and $18/at the door.  Advance tickets are available at the 930 Club Box Office – 815 V Street NW and Online: at http://www.ticketfly.com/event/596051-washington-renaissance-washington/ , or by phone 877/987-6487.  Further information phone: (202) 265-0930 / 202-888-0050, or go to http://www.thelincolndc.com/tickets .
Under the leadership of drummer and Artistic Director Nasar Abadey, and pianist and Music Director Allyn Johnson, the Washington Renaissance Orchestra is by turns a thoroughly contemporary ensemble while maintaining a profound connection to the jazz tradition.  Abadey, leader of his own enduring band SUPERNOVA® and Johns Hopkins University, Peabody Institute percussion professor, "continues to develop and experiment with color and texture in his sound" (Washington City Paper); and Johnson as "Dean of DC Jazz piano; the best representative for the state of creative Black music in DC" (CapitalBop) is Director of Jazz Studies at University of the District of Columbia.  Together, their broad perspectives on the music bring a rich color pallet to the Washington Renaissance Orchestra, an ensemble loaded with DC's elite instrumentalists.  As special guest, the multi-talented Navasha Daya brings her exceptional vocal perspectives to this compelling program.
Join us as we pay tribute to JAZZ, which has been cited in the Congressional Bill H. Con. Res: 57 and introduced by John Conyers, Jr. and passed in Dec, 1987 confirming Jazz: A National Treasure.
"Funded in part by the DC Commission on the Arts & Humanities, an agency supported in part by the National Endowment for the Arts."   Media Sponsor WPFW 89.3.FM the messenger…
The Washington Renaissance Orchestra consists of the following musicians:
Elijah Balbed:  Tenor Saxophone; Brian Settles:  Tenor Saxophone; Antonio Parker:  Alto Saxophone; Charlie Young:  Alto Saxophone; Julien Lane:  Trombone; Reginald Cyntje:  Trombone; Leon Rawlings:  Trombone; DuPor Georges:  Trombone; Whit Williams:  Baritone; Alvin Trask:  Trumpet; Michael Thomas:  Trumpet; Thad Wilson:  Trumpet; Tom Williams:  Trumpet; Nasar Abadey:  Drums; Allyn Johnson:  Piano; James King:  Bass; and Navasha Daya:  Vocals.
        Washington Renaissance Orchestra
Friday, June 20th at 8:00 PM
Lincoln Theatre, 1212 U Street NW
Washington, DC
Tickets: $15/general admission in advance
$18/at the door
 Advance tickets: 930 Club Box Office – 815 V Street NW
Online: http://www.ticketfly.com/event/596051-washington-renaissance-washington/
By phone 877/987-6487
 Further information: http://www.thelincolndc.com/tickets  (202) 265-0930 / 202-888-0050
---
Lincoln Theatre
---